A Rocky Saturday

A few days ago the Wildcard's fish, Rocky, left this world for the clear, blue waters of eternity. Or, maybe he went in the trash can. No one knows for sure.

Anyway, Destructo has been asking about Rocky. We told him that Rocky grew too big for his fish bowl, and decided he wanted to swim in the ocean. Keep in mind that he is only 3 y/o, and really isn't wondering exactly HOW Rocky got from his fishbowl on the bookshelf out to the ocean.

Tonight we walked to the beach after dinner and Destructo brought along the nets. He wanted to see if we could find Rocky and bring him home.

No biggie, we often walk out on the rocks and catch little fish in the tidepools.

I, of course took my camera.

This is the Wildcard, attempting to catch fish in the tidpools that are formed where the waves crash on the rocks. Notice the rocks. See how jagged and sharp they are in some places?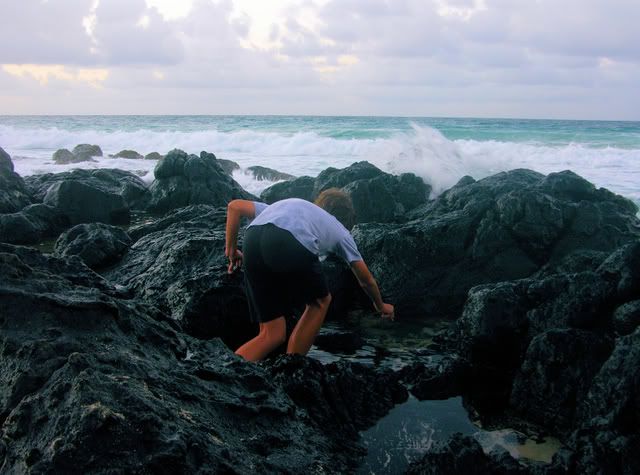 While the Wildcard and Destructo chased the fish around, the Hubster supervised and I climbed up onto the highest rock to take some pictures. The rock was about five feet high, but gave me a much better vantage point for the pictures I wanted to take.

I've been a tomboy since the day I was born, and climbing on the rocks is no big deal to me....I've climbed up there dozens of times to get better photos.

I took lots of pictures of the waves crashing on the rocks.

Like this one.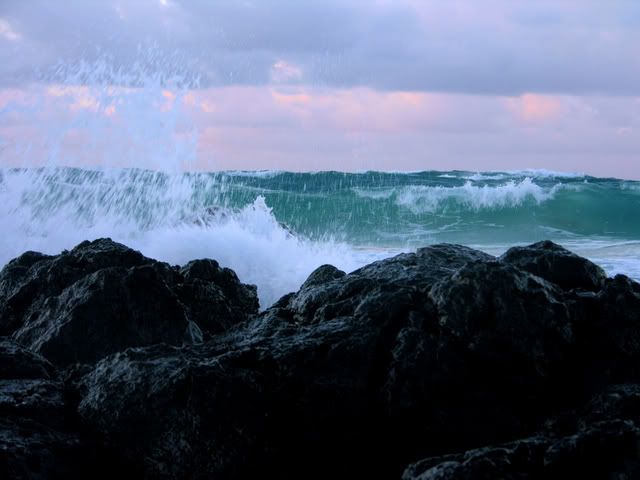 And then, to my right, the moon was rising.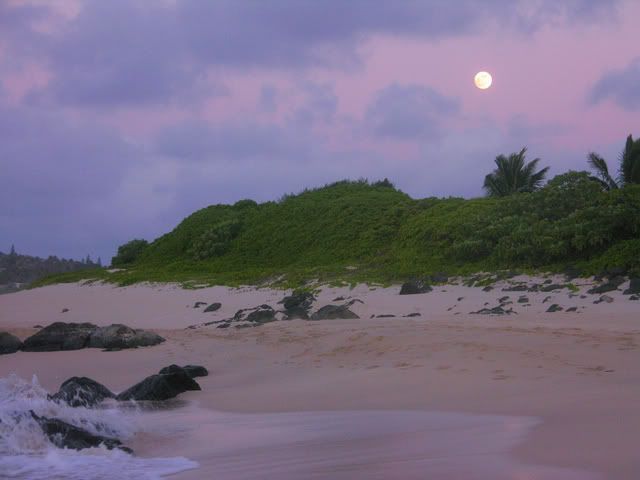 When I finally decided I was done, I had two choices. I could climb across the sharp, wet rocks the way I came, or I could step about one foot down, onto a rock about four feet from the sand, then jump down making sure to time my jump so that a wave wasn't coming in when I jumped.
The rocks were wet and slippery, and I knew that I would probably fall if I attempted to step down them and jump onto the sand. The safer route would be to climb across the lower rocks, the way I came.
So, obviously I chose the more dangerous route.
And I fell.
I managed to bruise my right foot, cut and bruise my right shin, split my right elbow open, scratch/bruise my right forearm, and bang up my hip and right butt cheek so badly that they are now twice their normal size.....which isn't pretty, by the way.
I did, however, manage to keep from dropping my camera in the water and only banged it a little on the rocks. It is still functional, but the Hubster thinks I should get a new one.
And I'm okay with that, bruises and all.